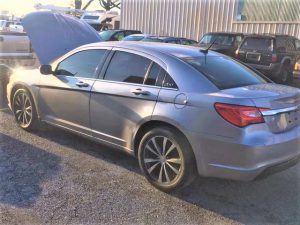 This Chrysler Touring had more than expected damage for its age and mileage, and is in quite poor condition. From a distance, this vehicle looks like a pretty clean and decent car but once one of our lemonsquad.com inspectors began his inspection he could tell that he was dealing with an official lemon. This is why we can't stress enough the importance of a proper pre-purchase used car inspection before you buy any used vehicle.
This Chrysler has paint damage to the hood and bumpers, the headlights do not work properly, there is heavy curb damage to the wheels and the tires are very dry rotted from age. There are parts of this vehicle that are coming apart, and even a few parts missing. The AC system in this car is not functioning, and during the vehicle computer scan, there were some fault codes detected that show this vehicle will need even further diagnosis.
Don't Buy a Lemon, friends. There is no reason to lay your hard earned money down on a bad vehicle.
Get your used vehicle inspected before you buy so you can avoid having problems like this old, worn out Chrysler.
And if you happen to see a sheet rock screw holding together the bumper like one of these photos shows… Run fast!