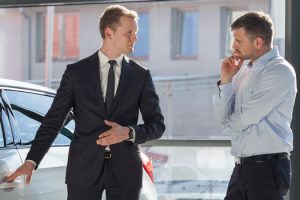 Most people are a bit intimidated when it comes to purchasing a used car. They worry they'll be talked into a car or a price they don't want or they'll make some mistake that will end up costing them a lot of money in the long run. These worries are especially an issue with people who aren't necessarily automotive experts and who feel it might be easy for a seller to take advantage of them. Here is a list of suggestions that can help you negotiate when you're buying your next used car.
Do Your Research 
The internet is filled with information about whatever vehicle you're interested in purchasing. You'll be able to find average sale prices, plusses and minuses of the vehicle written by actual owners, maintenance issues to watch out for, and little quirks you might not notice until after you've purchased the vehicle. Armed with this information, you'll have a much clearer idea of what a fair price is for the vehicle as well as any potential problems you need to get examined. You're a lot less likely to get talked into something you don't want when you come to the dealer prepared.
Get the Vehicle Inspected
You wouldn't buy a house without getting it inspected first, so why should you purchase a car without having someone look at it? Inspectors have mobile diagnostic tools they can use to examine the vehicle on the dealer's lot. These tests can highlight major concerns such as costly engine and transmission issues. The peace of mind of opting for a used car inspection is well worth the money you'll spend. If a dealer won't let you bring in a car inspector before you sign the papers, consider it a red flag they might be hiding something.
Don't Get Talked into Extras You Don't Need 
Dealers make money a couple of different ways. The most obvious way is by selling the car for more money than they paid. They can also make money on the financing of the vehicle. However, dealers can also make a lot of profit on all of the add-ons, including extended warranties and rust protection. Don't get talked into things you don't need.
Get the CarFax 
One of the biggest changes in recent years for the used car industry is the rise of CarFax. With a VIN number and $35, you can obtain the entire ownership history of any car. You'll know if it was originally a rental vehicle or whether it was owned by one person. If you're purchasing your vehicle from a dealer, they might provide you with the CarFax report for free. Even if you end up paying for it, the information will give you a better sense of what the vehicle is worth and any issues the dealer might have forgotten to mention.
If you're interested in a used vehicle and need an auto inspection, get in touch with Lemon Squad, the leading nationwide used car inspectors. From exotic cars to RVs, we can provide a detailed inspection on the vehicle you're thinking about purchasing. To schedule an appointment, call 1-888-231-7965 today.