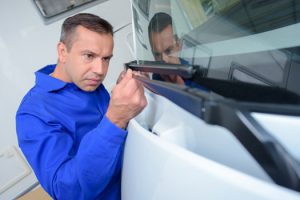 After you've had a car inspection performed and purchased a used vehicle, you may discover the windshield wipers need to be replaced. Luckily, this is an easy fix. Your windshield wipers are a lot more important than you might think since they help you see well throughout your drive on a rainy day. The wipers of a car must be changed from time to time to ensure safety. One of the best ways to determine if your car wipers need to be changed is by checking if they show the following signs.
Skipping
Skipping takes place when certain parts of the windshield do not get cleaned as a result of the abrupt movement the wiper faces. The wiper may be facing issues related to alignment, or one of the parts of the wiper may have worn off or even broken off. This is undoubtedly a time to get your wipers changed.
Streaking
Streaking occurs when dirt is left behind as a result of residue that has formed on the wipers. This residue can sometimes be cleaned off, but most of the time the wipers will retain some dirt, which can leave marks on the windshield and sometimes even damage it.
Splitting
Splitting happens when the wipers have a certain amount of damage and are not adequately attached to the handle or the car windshield itself. This usually means it's time for the wiper to be changed since there is very little that can be done to fix a broken wiper. Even if there is some way you manage to fix the wipers, there is always the chance they are going to come apart again, which is not ideal, especially if it happens when you are driving in the rain and are in dire need of a clear windshield.
Squeaking
Squeaking can be caused by a variety of issues, but this annoying sound is usually an indication the wipers need a quick change. One of the main reasons for squeaking is the rubber layer on the wipers wearing out, which can cause scratches and other damage to the windshield.
Inspecting the Wipers
If you are experiencing any of the above issues with your wipers and are unable to replace them yourself, it's probably time for a visit to the mechanic. However, you can inspect them yourself before you go to a professional. If any parts have broken off or fallen apart, try to keep the parts so you can show them to your mechanic. Scrutinize the entire wiper and try to determine what could be causing the issue.
Though it's important to make sure the windshield wipers are working correctly, there are much more serious issues that should be checked during an auto inspection before you decide to purchase a used vehicle. Get in touch with Lemon Squad today at 1-888-231-7965, and we'll send one of our technicians out to inspect the car you're interested in.