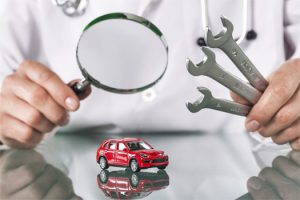 Replacement parts manufactured by another company apart from the original vehicle manufacturer are known as aftermarket parts, also called competitive replacement parts, generic parts, or non-OEM parts. You can perform the following checks to determine if aftermarket parts have been used when repairing a used car.
Find Out the Insurance Company's Policy
Used vehicles from insurance companies, usually sold at an auction, are often cheaper compared to other secondhand car dealers. Insurance companies sell cars that have been repaired either after a major or minor accident. Usually, buying original parts from the manufacturer costs more compared to purchasing aftermarket spare parts. As insurance companies are in the market to make a profit, they typically go for aftermarket spare parts. When buying a car an insurance company is selling at an auction, check the company's policy and inquire about the kind of spare parts they used.
Ask the Previous Owner
Knowing whether a used car has aftermarket parts can be difficult for an ordinary person to identify by just observing the equipment. Most car equipment is almost the same, and you may not know if it comes from an original manufacturer unless you have a professional inspector look at your car. However, some back history of the vehicle can help you determine if the car has aftermarket parts or not. If you purchased the vehicle directly from the previous owner, you can ask if he or she replaced worn out parts with original parts or with aftermarket parts.
Get a Professional Car Inspection
Used car dealers may not openly admit they have fixed a vehicle with aftermarket parts since they want to impress buyers and make a sale quickly. It's up to you to get an inspector to access the vehicle and find out if it has non-OEM parts. Hiring a professional technician to perform a used car inspection can help you identify aftermarket parts on the car, though some parts can be difficult to verify. Some of the spare parts could be counterfeits disguised as original parts from the car manufacturer. As a buyer with no experience with original spare parts, you might fail to recognize aftermarket spare parts installed in secondhand cars.
Test the Car's Engine Performance
Changing the entire car engine or some parts of the engine can affect a car's performance. Before buying a used car, take a test drive to gauge the performance of the vehicle. After a test drive, you may be able to tell if aftermarket spare parts have altered the engine's performance.
If you want to find out if a used vehicle you're interested in has been repaired with aftermarket equipment, or if you're concerned about other issues with the car, make sure to get a professional auto inspection from Lemon Squad. We'll send one of our reliable technicians to the vehicle to check for a variety of potential problems. Give us a call today at 888-231-7965.